WEST LAFAYETTE, Indiana — It was a terrible, no good, very bad day for the Ohio State men's basketball team as they were thoroughly dominated by No. 14 Purdue on Saturday.
Without the services of the suspended sophomore star Kaleb Wesson, the Buckeyes fell on the road to the Boilermakers, 86-51.
Game Recap
For those of you who want the short recap of the game, here's a GIF for you: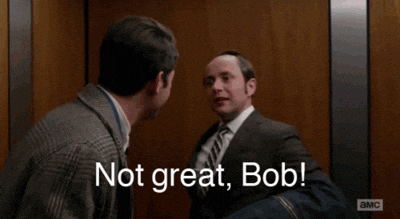 For those of you who desire to read more on this terrible game, here we go.
It was actually a promising start for the Buckeyes as they were tied at four at the first media timeout and freshman big man Jaedon LeDee was looking solid filling in for the suspended Kaleb Wesson.
Then the rest of the game happened.
Purdue quickly jumped out to a double-digit lead by the second media timeout and Boilermaker fans were cheering for a score of 49-20 to replicate that of the football final score between Purdue and Ohio State.
They came close to replicating the football score, but Purdue fans had to settle for a halftime score of 48-20. Close enough, right?
Joey Lane and other Ohio State benchwarmers ended up playing significant minutes in the second half as Purdue held on to their blowout, the final score being 86-51.
Final Stats
Freshman big man Jaedon LeDee managed to reach double figures while filling in for the suspended Kaleb Wesson on Saturday as LeDee posted 16 points in the blowout loss.
Duane Washington Jr. was the only other Buckeye player to even come close to scoring in double figures as the freshman guard finished with nine points on 4-of-9 shooting against the Boilermakers.
Stunningly, Ohio State had one of their lowest turnover games of the season as they managed to keep out of the double digits with only nine turnovers.
With the loss, Ohio State falls to 18-11 on the season and an abysmal 8-10 in Big Ten conference play.
The Buckeyes will try to right their wrongs this Wednesday, March 6th when they take on Northwestern on the road before returning to Columbus for their regular season finale on Sunday, March 10th against No. 19 Wisconsin.
Tip-off this Wednesday between Ohio State and Northwestern is scheduled for 9:00pm ET  and the game will be televised on Big Ten Network.
Be sure to follow Buckeye Beat Report for more news and content on your Ohio State Buckeyes!